What Does Unlawful Use of Weapons Mean in Illinois?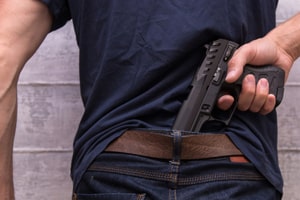 The term "unlawful use of weapons" is somewhat misleading. In Illinois, you do not have to be actively using the weapon in order to be charged with unlawful use. More often, people are arrested for possessing the weapon after a police officer has stopped them due to allegedly criminal or suspicious behavior. Actively using a weapon is a different criminal charge in Illinois, such as aggravated discharge of a firearm or armed violence. A charge of unlawful use of weapons can be a felony depending on the type of weapon you have, where you were found with it, and whether you have previous weapons charges.
Unlawful Use and Aggravated Unlawful Use
Illinois residents are allowed to carry certain weapons, such as a handgun, as long as they have a Firearm Owner Identification (FOID) card and a Concealed Carry License (CCL). However, there are some weapons that are illegal to possess, such as switchblades, machine guns, and explosives. It is also illegal to bring a weapon into many public places, including schools, government buildings, and places of worship. These violations are classified as unlawful use of weapons because there is often an assumption that the suspect intended to use the weapon.
A charge of aggravated unlawful use of weapons occurs when there are other elements to the offense, such as:
Possessing an illegal firearm that is loaded and immediately accessible

Possessing a loaded, legal firearm without a FOID card or CCL
The suspect has an order of protection issued against them
The suspect was allegedly committing a misdemeanor involving drugs or an act of violence
While unlawful use of weapons can be a misdemeanor or felony charge, aggravated unlawful use of weapons is at minimum a Class 4 felony.
Defense Arguments
There are exceptions to the unlawful use of weapons charges that protect lawful and responsible weapons owners. Besides having a FOID card and CCL, you cannot be charged with unlawful use of weapons if:
You are transporting a legal weapon in your vehicle that is broken down or not immediately accessible

The weapon is unloaded and contained in a carrying case
You possess the weapon on your property or a home or business where weapons are allowed
You are a guest on someone else's property, and they have given you permission to carry a weapon
Contact an Oakbrook Terrace, Illinois, Criminal Defense Attorney
Having a weapons conviction on your criminal record looks bad when someone conducts a background check on you. A Rolling Meadows, Illinois, criminal defense lawyer at Hartsfield Law understands the severity of your criminal charges and will work to protect you. Schedule a free consultation by calling 312-345-1700.
Source:
http://www.ilga.gov/legislation/ilcs/ilcs4.asp?DocName=072000050HArt%2E+24&ActID=1876&ChapterID=53&SeqStart=68200000&SeqEnd=71400000