The Differences Between Burglary, Residential Burglary, and Home Invasion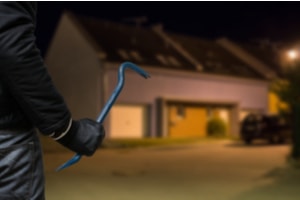 Burglary is a criminal charge that involves unauthorized access to a private property with the intent to commit a crime. People often associate burglary with theft, but the offender could also attempt to commit an assault or destroy property. Unauthorized access without criminal intent could be a lesser charge of criminal trespassing. It is also illegal to possess or sell burglary tools, even if you are not caught using them. There are three types of burglary charges in Illinois, all of which are felonies.
Burglary
The standard burglary charge is when someone knowingly enters private property without authority and with the intention of committing theft or a felony. The suspect may have broken into the property or remained inside without the owner's permission. The criminal code states that properties may include:
Buildings;

Trailers;
Motor vehicles;
Railroad cars;
Watercraft; and
Aircraft.
A burglary conviction is a Class 3 felony if the offender did not damage the property in the entry process. Burglary with property damage is a Class 2 felony. Burglary committed at a school, daycare center, or place of worship is a Class 1 felony.
Residential Burglary
Burglarizing someone's home is a separate charge, called residential burglary. The residents do not need to be home for it to qualify as residential burglary. Illinois considers residential burglary a more serious offense than burglary, with a conviction being a Class 1 felony. Residential burglary also includes gaining access to someone's home with criminal intent by falsely presenting yourself as a government representative or employee for a utility, construction, or telecommunications company.
Home Invasion
Home invasion is the most serious burglary charge because it involves an act of violence. A residential burglary becomes a home invasion when the offender knew that someone was likely to be at the residence and:
Possessed a weapon;

Committed or threatened violence against an occupant;
Fired or threatened to fire a gun; or
Sexually assaulted or abused an occupant.
A home invasion conviction is a Class X felony, which is the highest felony class.
Contact a Chicago Criminal Defense Attorney
Being caught during a suspected burglary looks bad, but it does not mean an automatic conviction. You can contest the charge by claiming that you had permission to access the property or never entered the property. You could also get the charge reduced to criminal trespassing if prosecutors cannot prove that you intended to commit a crime. An Oakbrook Terrance, Illinois, criminal defense lawyer at Hartsfield Law knows when prosecutors lack the evidence to convict you for a charge such as burglary. Schedule a free consultation by calling 312-345-1700.
Source:
http://www.ilga.gov/legislation/ilcs/ilcs4.asp?ActID=1876&ChapterID=53&SeqStart=62940000&SeqEnd=65800000