Illinois Changing Limits of Concealed Carry Gun Law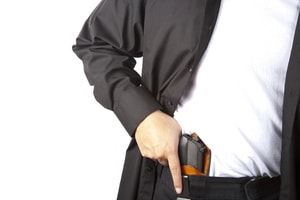 Illinois' concealed carry weapons law allows licensed gun owners to carry a gun for the purpose of self-protection. However, there is also a long list of places where guns are prohibited, even if you have a license to carry one. It is a criminal offense to knowingly possess a weapon when entering public properties such as schools, parks, and courthouses. In some cases, possessing a weapon within 1,000 feet of specified properties can be against the law. In the past year, Illinois courts have dismantled some of the concealed carry restrictions that were deemed to have violated people's Second Amendment rights.
Recent Rulings
The Illinois Supreme Court made the first significant ruling when hearing the case of People v. Chairez in February 2018. In the case, the defendant petitioned to throw out his conviction for possessing a gun within 1,000 feet of a public park on the grounds that the law was unconstitutional. Both an Illinois circuit court and the Supreme Court agreed that the law put an undue burden on the defendant.
The February ruling was limited to public parks but set a precedent for cases involving other properties that banned weapons possession within 1,000 feet. In June 2018, an appellate court overturned a defendant's conviction for possessing a gun within 1,000 feet of a public school, citing the earlier Supreme Court ruling.
In April 2019, a U.S. district court ruled that the East St. Louis Housing Authority in Illinois could not enforce a lease agreement condition that prohibited residents from lawfully possessing firearms.
Reasoning
The Second Amendment to the U.S. Constitution protects citizens from laws that would prevent them from possessing a weapon, primarily for the purpose of self-defense. Illinois courts ruled that the law prohibiting the possession of a weapon within 1,000 feet of certain public properties put an undue burden on lawful gun owners because:
An owner could unknowingly violate the law when passing by a school or public park;

Owners who live within 1,000 feet of such properties could not legally leave their homes with a weapon;
Requiring owners to dismantle their weapons makes the weapons useless for self-defense; and
There is no evidence supporting the claim that banning weapons within 1,000 feet of these properties increases safety.
Contact a Rolling Meadows Criminal Defense Attorney
There are several ways to contest a charge against you for unlawful possession or use of a weapon. An Oakbrook Terrace, Illinois, criminal defense lawyer at Hartsfield Law can protect your constitutional right to own a gun. Schedule a free consultation by calling 312-345-1700.
Source:
http://www.ilga.gov/legislation/ilcs/ilcs3.asp?ActID=3497&ChapterID=39