How Illinois' Points System Factors into Driver's License Suspensions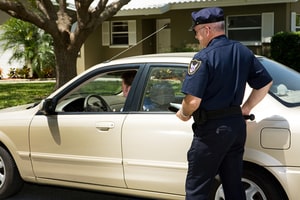 You may have heard about the points system that Illinois uses for people who commit moving traffic violations. Each violation counts for a certain number of points that will go on your driving record. You could receive as few as five points for traveling 10 miles per hour or less over the speed limit. You could also receive as many as 55 points for a reckless driving conviction. There is a common misconception that Illinois will suspend your driver's license once your points surpass a limit. The number of traffic tickets you receive in a 12-month period triggers a driver's license suspension. The points system, along with your previous record of suspensions, is used to determine how long your suspension will last.
How It Works
Illinois will suspend the driver's license of any driver 21 or older who committed three moving traffic violations in the past 12 months. For drivers younger than 21, the suspension triggers after two moving violations within 24 months. When your license is suspended, the state will add up the points from your previous traffic violations to determine the length of the suspension. For drivers 21 and older:
15 to 44 points is a two-month suspension.

45 to 89 points is a six-month suspension.
90 to 99 points is a nine-month suspension.
100 to 109 points is a 12-month suspension.
110 points or more is a revocation.
Drivers younger than 21 will see their license revoked for having 80 or more points but are adding up points from only two violations. Some traffic violations result in an automatic suspension after the first offense, such as driving under the influence of alcohol or drugs.
Past Suspensions
Your driver's license suspension will be longer if your license has been suspended in the last seven years. Any points over 74 will result in a 12-month suspension if you had one previous suspension. With two previous suspensions, it will be a 12-month suspension for any number of points.
Contact an Oakbrook Terrace, Illinois, Criminal Defense Lawyer
There is no such thing as an inconsequential traffic ticket in Illinois. One speeding ticket may not seem worth the effort to fight, but with just two more tickets in a year, your driver's license could be suspended for at least two months. You have the right to contest your traffic tickets in court, as well as to request a hearing if you receive notice that your license is being suspended or revoked. A Rolling Meadows, Illinois, criminal defense attorney at Hartsfield Law will work to protect your driving privileges. Schedule a free consultation by calling 312-345-1700.
Source:
https://www.cyberdriveillinois.com/publications/pdf_publications/dsd_dc19.pdf