Should You Refuse a DUI Breath or Blood Test?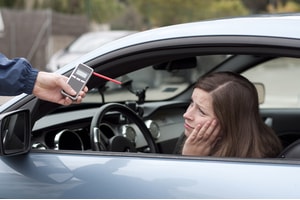 Drivers who are stopped on suspicion of driving under the influence often face a difficult decision when a police officer asks them to submit to chemical testing. Providing a breath or blood sample could give evidence that your blood alcohol concentration is above the legal limit or that you have an illegal drug in your body. However, refusing the test will result in the suspension of your driver's license and will not prevent prosecutors from charging you with DUI. Though there are consequences for refusal, preventing chemical testing could make it more difficult to prove that you are guilty of DUI.
Implied Consent
According to the implied consent law, Illinois drivers have already consented to chemical testing for DUI when they are driving or have actual physical control of a vehicle. If you refuse chemical testing, the police will notify the Illinois Secretary of State's office, which will suspend your driver's license for a year. In contrast, failing a DUI test results in a six-month license suspension, though a DUI conviction would come with worse consequences. A summary suspension is an administrative action that is separate from criminal charges. Your license can be suspended even if you are never charged with or convicted for DUI.
Rules for Chemical Testing
A court may dismiss the evidence from a chemical test if the officer did not follow the legal procedures:
The officer must have probable cause to believe you are intoxicated or impaired before requiring a test;

The officer must inform you of the consequences of refusing a chemical test before you decide whether to submit to the test; and
The officer cannot force you to give a blood sample without a valid warrant.
Forced blood draws after DUI arrests are a controversial subject because they potentially violate your constitutional protection against illegal searches. Courts generally agree that police must go through the process of receiving a warrant from a judge before taking a blood sample unless there are urgent circumstances that prevent them from waiting for a warrant.
Driving Options
A summary suspension of a driver's license does not mean that you will be unable to drive for a year. The secretary of state's office will hold a hearing for your suspension, during which you can request a restricted driving permit. As a condition of your RDP, the court may require you to install a blood alcohol ignition interlock device on your vehicle. The device forces you to give a breath sample before starting your vehicle and periodically while driving to prove that you do not have alcohol in your system.
Contact an Oakbrook Terrace Criminal Defense Lawyer
Proving guilt in a DUI case is not as simple as police and prosecutors want you to believe. A Rolling Meadows, Illinois, criminal defense attorney at Hartsfield Law can contest the DUI charge against you in order to obtain an optimal outcome. To schedule a free consultation, call 312-345-1700.
Source:
http://www.ilga.gov/legislation/ilcs/fulltext.asp?DocName=062500050K11-501.1