How to Contest a Criminal Assault Charge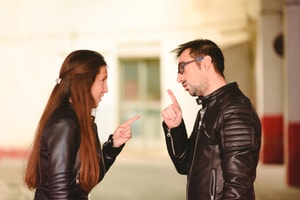 A criminal assault charge is often accompanied by a battery charge. Assault is the non-physical act of threatening someone to the point that they fear for their safety, while battery is actually using violence against that person. You can be charged with assault alone if the alleged victim accuses you of threatening harm without the incident resulting in physical contact. If you have been charged with assault, you should remember that the prosecution bears the burden of proving that a crime occurred. By examining details of your case, a criminal defense attorney can identify weaknesses in the prosecution's argument against you.
Reasonable Belief
To establish that an assault occurred, the prosecution must show that you intentionally acted in a manner that caused the victim to reasonably believe that he or she was at risk of immediate physical violence. The prosecution will need to describe how your language or physical gestures established a threat of violence. There are several ways that you can dispute that an assault actually occurred, such as claiming:
Your allegedly threatening behavior was unintentional or misinterpreted;

The alleged victim was unreasonable in believing that your actions constituted a threat; or
The alleged threats should not have caused the victim to fear imminent danger.
People may show irrational fear towards you based on your appearance and their own anxieties. Providing a clear and reasonable explanation of the incident can show that you never intended to threaten or harm the alleged victim. Witness testimony can support your account of the incident.
Acting in Defense
If you did, in fact, commit an assault, you can still contest the criminal charge if you can prove that you were defending yourself or someone else. Stopping an imminent assault or battery is an affirmative defense against an assault charge. However, you are now the one who must prove that:
The person was an immediate threat of violence to yourself or another person; and

Your actions went only as far as necessary to prevent the imminent danger.
Continuing to assault someone after he or she is no longer a threat goes beyond self-defense.
Contact a Chicago Criminal Defense Attorney
Contesting an assault charge can be simpler that contesting a battery charge because there is no physical harm involved. The prosecution must prove your intent and that the victim reacted reasonably. An Oakbrook Terrace, Illinois, criminal defense lawyer at Hartsfield Law can build a defense against assault or battery charges. Schedule a free consultation by calling 312-345-1700.
Source:
http://www.ilga.gov/legislation/ilcs/ilcs4.asp?ActID=1876&ChapterID=53&SeqStart=21100000&SeqEnd=23000000